🚀 Paper Hands
Layer 2, Tesla Sells, NFTs... Again
Good Morning. In case you thought today was shaping up to be a bad day, at least you're not being sued by Walmart. The mega-corporation is accusing West of plagiarizing their logo in his newest Yeezy line. Although we don't think anyone will be mistaking Walmart kicks for your Yeezy's.
Today
⛓ Layer 1 vs. Layer 2—what's the difference? And a new scaling protocol enters the spotlight
⚡️ Sorting through Tesla's controversial Bitcoin sale
🎨 Steve Aoki's latest NFT endeavor (Are NFTs taking over Zoomer Money? Let us know what you think on Twitter)
Small Bitez
---
All the Layers 🧅
What a rollercoaster week it's been, a lot of your favorite cryptos have taken a dive in the past week, but there's one project that has come out of the chaos with its price doubled. Out of the top 300 cryptocurrencies by market capitalization, Polygon ($MATIC) has performed the best, rising 105.5% in the past 7 days. So who's the new kid in town?
What is Polygon?
In one sentence, Polygon is a platform for Ethereum scaling and infrastructure development. Don't worry we'll break down what that means.
Ethereum's biggest criticism has reached consensus at this point: it's too expensive to use for retail traders entering the space. New users are turned away from Ethereum's network (gas) fees that maintain the network's decentralization, scalability, and security (see the Blockchain trilemma). Scalability and user experience issues are part of the reason blockchains and smart contract platforms struggle to reach mass adoption.
Matic [Polygon] Network strives to solve the scalability and usability issues, while not compromising on decentralization and leveraging the existing developer community and ecosystem. It is an off/side chain scaling solution for existing platforms to provide scalability and superior user experience to DApps/user functionalities. (white paper)
Polygon turns Ethereum into a multi-chain network which reduces gas fees while maintaining the decentralization and security of Ethereum. Essentially, the goal is to make decentralized applications more user-friendly, less expensive, and faster without leaving behind the existing developer community and ecosystem that is already massive and growing exponentially.
The Bottom Line
Polygon is a Layer 2 solution that allows developers to build decentralized applications without the high gas fees and network congestion that currently exists on the main (Layer 1) Ethereum chain. Hope you like onions!
Here are some projects already building on the Polygon network:
---
Tesla Liquidity Test 💦
Tesla released its Q1 earnings report this week, slyly revealing a sale of 10% of the electric car companies' Bitcoin holdings:
Year over year, positive impacts from volume growth, regulatory credit revenue growth, gross margin improvement driven by further product cost reductions and sale of Bitcoin ($101M positive impact, net of related impairments, in 'Restructuring & Other' line) were mainly offset by a lower ASP, increased SBC, additional supply chain costs, R&D investments and other items. Model S and Model X changeover costs negatively impacted both gross profit as well as R&D expenses
The electric vehicle company bought $1.5B worth of Bitcoin earlier in the year and netted $101M in income from selling 10% of its holdings, more than they've made selling cars—ever. The reasoning for the sale, according Musk, was to "prove liquidity of Bitcoin as an alternative to holding cash on the balance sheet." Basically, Elon wanted to know that there were buyers if he wanted to sell, and there were. As you can expect, lots of "paper hands" and "ngmi" comments were being hurled at Elon and Tesla.
In a Twitter fight with Barstool Sports CEO Dave Portnoy, Elon explains to Dave—who infamously sold his Bitcoin at the bottom—why Tesla really sold 10% of its Bitcoin holdings:
---
Another Day, Another NFT 🖼
Yet Another Music Artist Gets Into the NFT Game
Being that he is a self-proclaimed futurist—not to mention the world's most famous DJ—it's surprising that Steve Aoki has taken this long to hop aboard the train. After the success of his "Dreamcatcher" NFT collection in March, Steve announces his plans to launch a sci-fi comic-themed "Neon Future" NFT set with entrepreneur Tom Bilyeu. Aoki and Bilyeu co-created the comic back in 2018, and just three years later are selling it as a digital file for tens of thousands of dollars. Oh how the time passes.
In an interview with Fortune's: Balancing the Ledger, Steve shares some of his optimistic predictions on blockchains, crypto wallets, and NFTs. Great minds think alike Steve!
How we identify ourselves to the world, it's gonna be, not just your Instagram profile—that's what it is now, that's 2021—but in the future it will be your wallet
Aoki's first NFT collection was dropped via the platform Nifty Gateway, and one in particular "Hairy" sold for $888,888.88. Some rich person who really likes the number eight and EDM had been waiting their whole life for this moment.
🕶️ Things are getting "Hairy" with

@steveaoki

x

@antonitudisco

! View the full collection here:
bit.ly/AKauct
bit.ly/AKoe
bit.ly/AKpac
The "Dream Catcher" collection drops today at 2 PM EST!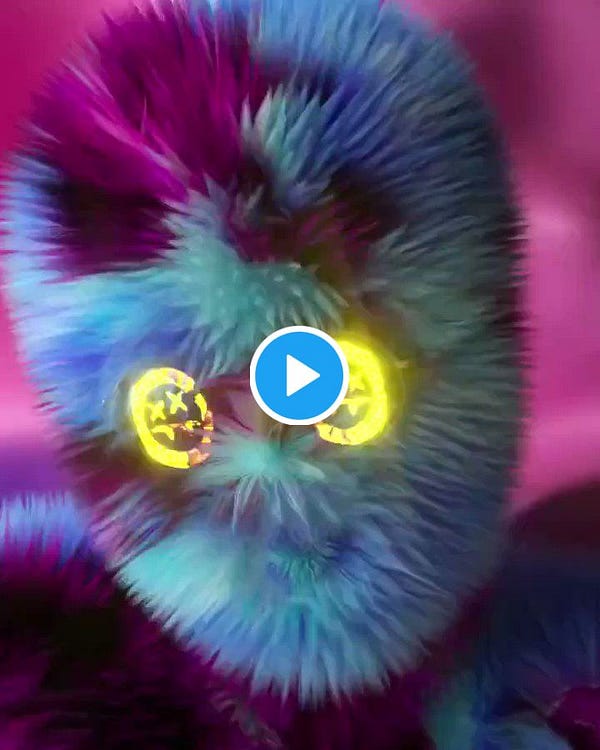 ---
Thanks for reading! 👋
Come hang out in the Discord server!